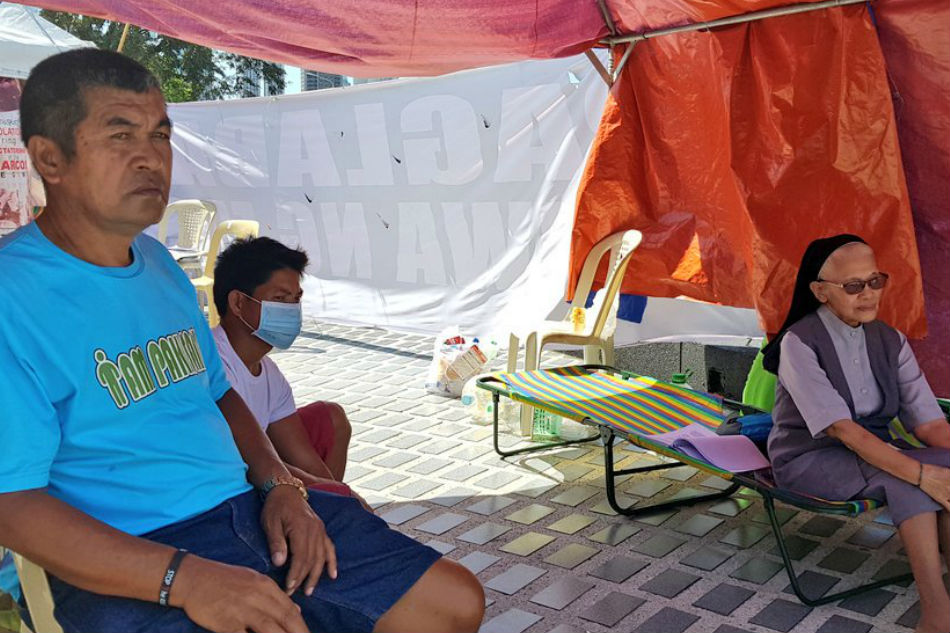 MANILA – Longtime activists found a common enemy in President Rodrigo Duterte more than 30 years after ousting the late dictator Ferdinand Marcos in a bloodless revolt Filipinos will mark on Sunday.
Franciscan sister Teresita Alo, 79, drew comparisons between the 2 leaders, but said Duterte, an avowed admirer of Marcos, was "worse."
Thousands have been killed in the administration's drug war, alarming human rights groups and prompting an inquiry from the Hague-based International Criminal Court for alleged crimes against humanity.
"Mas mabuti pa ang manok, may presyo. Ang tao, walang presyo," Alo told ABS-CBN News Thursday at the Edsa People Power Monument where her group was holding a 9-day fasting to protest moves to revise the constitution.
(You can't put a price on human life, unlike chickens.)
Farmers, priests, nun hold 9-day fasting at Edsa People Power Monument to protest planned charter change, federalism pic.twitter.com/mtJdy4HWBw

— Christian Esguerra (@IanEsguerra) February 22, 2018
Alo and her group were on their sixth day of fasting, subsisting on water under a makeshift tent at the foot of the memorial.
The group includes 2 priests and 5 farmers, who fought the Marcos dictatorship and continued to push for social justice in the administrations that followed.
It warned that a shift to federalism would only benefit political dynasties, a concern shared by an experts' group formed by the President to draft a new federal constitution in 6 months.
Socialist workers' group stage rally at Edsa People Power Monument vs federalism pic.twitter.com/ofLbN5MV5N

— Christian Esguerra (@IanEsguerra) February 22, 2018
"It's not a shift to a better form of government, but a shift to a stronger status quo of the dynasties and of the elite," said Fr. Robert Reyes of the human rights advocacy group Gomburza.
A few steps away, another group of activists gathered Thursday warning that political dynasties would "divide the country among themselves" under Duterte's federalism "experiment."
"Parang Dengvaxia ang gagawin nilang eksperimento," Dakila Dipasupil, chairman of the Socialista group, told ABS-CBN News referring to the controversial anti-dengue vaccination program blamed for several deaths.
(They will do an experiment, like Dengvaxia.)
The Edsa Revolution did not live up to its promises, he said, despite restoring democracy in the Philippines.
Dipasupil's group feared Duterte would impose a nationwide martial rule if he failed to push for charter change.