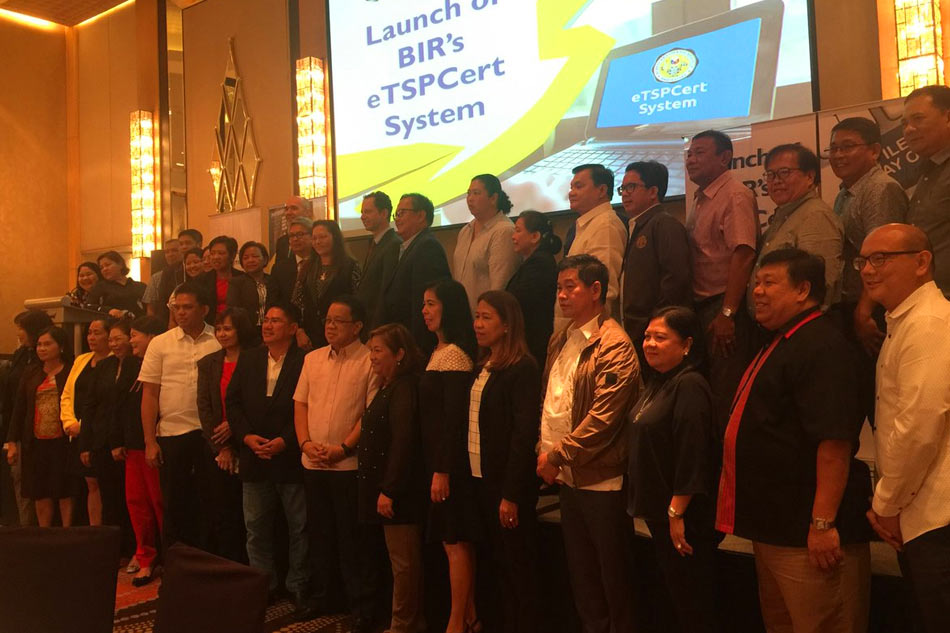 MANILA – Stepping up its efforts to improve revenue collection, the Bureau of Internal Revenue (BIR) launched on Thursday its Electronic Tax Software Provider Certification (eTSPCert) System.
The eTSPCert system, a project of the BIR with development partner United States Agency for International Development (USAID), is an online system where tax software providers (TSPs) can apply to have their e-filing and e-payment software tested, evaluated, and certified by the bureau.
The move to expand the electronic and digital platforms for tax filing payments is seen to increase taxpayer compliance, and eliminate fraud and graft and corrupt practices. It also promotes the shift from cash-based and over-the-counter payments to cash-lite retail transactions.
The first electronic initiatives include the electronic filing and payment system (eFPS), e-BIR forms system, Globe Telecom G-Cash for mobile tax payment; and the Landbank Linkbiz portal and DBP 'Pay Tax' for use of credit, debit, prepaid, and ATM cards.
To date, 83 percent of transactions are still done manually over-the-counter.
TSPs are individuals or organizations offering tax services through third-party solutions and tax preparation software that generate tax returns. The market of these TSPs include micro, medium and small businesses (MSMEs), professionals, and freelancers.
"The eTSPCert System is, from end-to-end, a completely online system, where there shall be absolutely zero-contact between applicants and the BIR personnel who shall evaluate the software submitted for certification," said BIR Deputy Commissioner Lanee David.
Under the system, the BIR will issue a certification for e-filing software that conforms to the bureau's file structure as well as tax returns that are successfully transmitted, received, validated, and viewed at the BIR database.
The system also ensures that security standards are met.
"It is also our responsibility to ensure that this tax filing and payment software packages conform with the BIR's data structure requirements and standards for security," David explained.
The tax filing and payment software packages provided by TSPs "have become increasingly sought after by corporations, tax professionals and other interested parties," David said.
TSPs who develop electronic tax return filing, and/or payment solution for their own clients, for sale as an off-the-shelf solution, or for subscription may apply for the eTSPCert System.
They may submit their software for testing and certification as an e-filing, e-payments, and/or combination of e-filing and e-payment solution. Those applying for e-filing and e-payment software need to partner with any of BIR's authorized agent banks (AABs).
Once TSP applications are approved, the file structure (list of data fields per BOR form and payment report) and .XML (type of data format used for representation and transfer of structured data on the web or between different applications) files that the TSPs need to develop their filing and payment software may then be downloaded.
TSPs have 90 days to develop their software and have it evaluated for certification.
The BIR is confident that its eTSPCert System will encourage more e-filing sotware providers to partner with AABs, increase e-filing and e-payment software options, increase taxpayers' voluntary compliance, and improve taxpayer satisfaction.
As of end October 2018, 80-percent or 17.4-million, out of 21.7-million tax returns received, were filed by taxpayers electronically. Debit/prepaid and ATM card tax payments totaled P309-million. Credit card tax payments totaled P11.5-million, fourteen times higher than collections in 2017 at P820,000.
Due to its efforts to institutionalize electronic and digital services, the BIR earned the recognition of posting the highest increase in rank for the 'Paying Taxes' category of the World Bank's Ease of Doing Business Survey 2016-2019, from rank 126 in 2016 to rank 94 in the 2019 report published in October.
The launch in Makati City was attended by officials and representatives from the BIR national and regional offices and USAID/Philippines Office of Economic Development and Governance chief Jeffrey Lehrer.