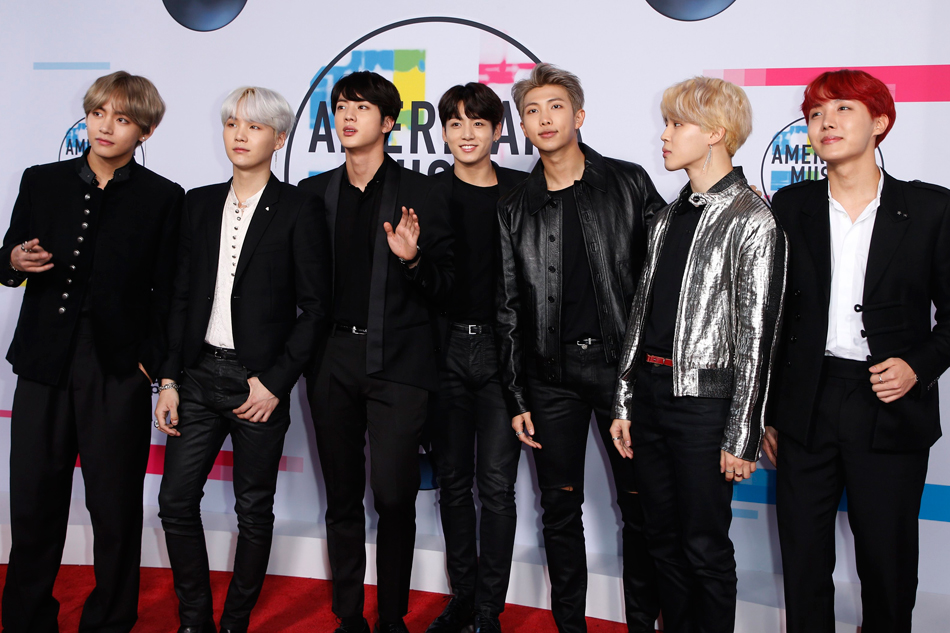 South Korean boy band phenomenon BTS won big at the 2018 Asia Artist Awards on Wednesday, bagging the Daesang (grand prize) over last year's winner EXO.
The group, which has sold out massive arenas worldwide, thanked BTS fans, known as the Army, for the prize.
"This year made me realize once again how lucky I am to be with my bandmates, and our fans — Army." Jimin said.
The group's leader RM said: "I've said this two years ago and I'll say this again — 'AAA' stands for Army, Army, Army."
Lee Byung Hun also won the Daesang (grand prize) in the acting category.
Held for the third year in a row at the Namdong Gymnasium, the awards honor outstanding achievements and international contributions of Asian artists in television, film and music. super Junior's Leeteuk and Lee Sung Kyung hosted this year's awards.
Check out the full list of winners below:
Music Category
StarPay Popularity Award: BTS
Focus Award: D-CRUNCH, W24
Rising Star: fromis_9, SF9
New Wave Award: KARD, WJSN (Cosmic Girls), gugudan
Favorite Award: Chungha
History of Songs Award: Se7en
Korean Tourism Appreciation Award: BTS
Best Performance Director: Son Sung Deuk
Best Producer: Pdogg
Choice Award: SNUPER
Asia Hot-tist Award: Wanna One
Fabulous Award: BTS, TWICE
Artist of the Year: Zico, Wanna One, iKON, TWICE, SEVENTEEN, MONSTA X, MAMAMOO, GOT7, NU'EST W, Sunmi, BTS
Rookie Award: IZ*ONE, Stray Kids, (G)I-DLE, The Boyz
Best Icon: MONSTA X, MOMOLAND
Asia Brilliant Award: AOA
Best Music: NU'EST W, MAMAMOO, Sunmi
Best Popular: GOT7
Best Musician: Zico, iKON
Best Artist: TWICE, Wanna One, SEVENTEEN
Daesang: BTS
Acting Category
StarPay Popularity Award: IU, EXO's Sehun
Focus Award: Kim Yong Ji, Jin Joo Hyung, Shin Hyun Soo
Rising Star Award: ASTRO's Cha Eun Woo, Jung In Sun
New Wave Award: AOA's Seolhyun
Favorite Award: Sung Hoon
Best Creator: Won Dong Yeon
Choice Award: Jasper Liu, Kwak Si Yang, B1A4's Jinyoung
Asia Hot-tist Award: IU
Korean Tourism Appreciation Award: Lee Byung Hun
Asia Eco Creator: Park Hae Jin
Fabulous Award: Lee Byung Hun, Ha Jung Woo
Artist of the Year: Lee Sung Kyung, 2PM's Junho, Ryu Jun Yeol, Jung Hae In, IU, Lee Seung Gi, Joo Ji Hoon, Yoo Yeon Seok, Ha Jung Woo, Lee Byung Hun
Rookie Award: Kim Da Mi, Jang Ki Yong
Best Icon: Choi Tae Joon, INFINITE's L
Asia Brilliant Award: SHINee's Minho, Lee Da Hee
Asia Trend: Jung Hae In, YoonA
Asia Celebrity: Suzy
Best Emotive: Jung Hae In, Junho, Lee Sung Kyung
Best Popular: Ryu Jun Yeol, Lee Seung Gi
Best Actor: Joo Ji Hoon, Yoo Yeon Seok, IU
Best Artist: Ha Jung Woo
Daesang: Lee Byung Hun