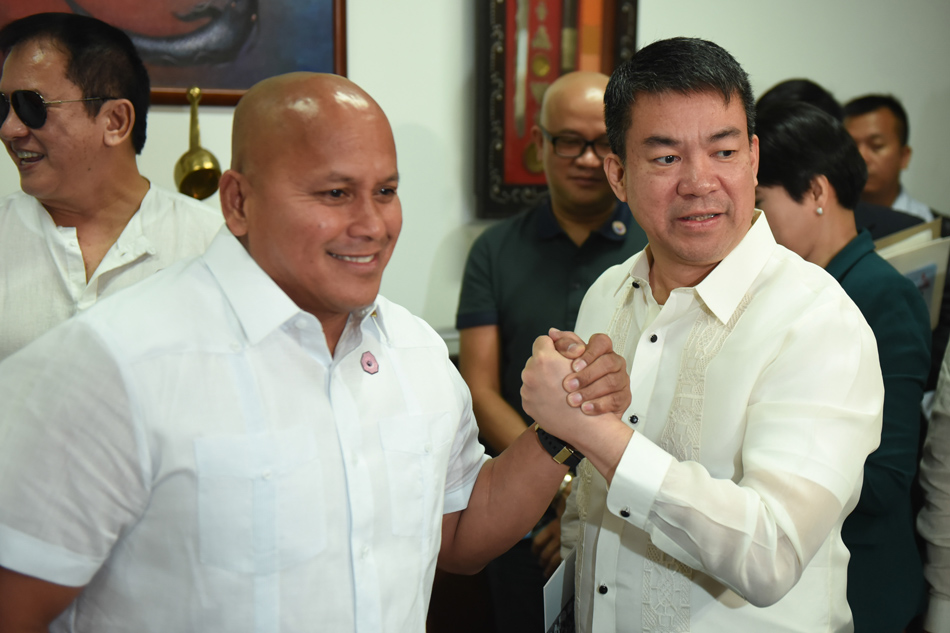 MANILA—The Commission on Elections (Comelec) has ruled in favor of Sen. Aquilino "Koko" Pimentel III's group, recognizing his leadership over that of a renegade faction in the ruling PDP-Laban party for nominations in next year's elections.
The poll body declared as "legitimate and official" the list of authorized signatories submitted by Pimentel's PDP-Laban wing for its candidates in next year's midterm elections.
Aside from Pimentel, who is the party president, PDP-Laban senatorial candidates include President Rodrigo Duterte's long-time aide, Christopher Go, and former national police chief Ronald Dela Rosa.
The Comelec requires lists of signatories to determine which candidates are running under specific parties. Without it, a candidate will be considered an independent.
The other PDP-Laban faction headed by Rogelio Garcia had submitted its own list of "authorized signatories" for its 2019 nominees.
INDEPENDENT
"The Commission still maintains its recognition of the officers of the Pimentel group as PDP-Laban's legitimate officers authorized to act for and in behalf of PDP-Laban," the poll body said in its ruling, a copy of which was obtained by ABS-CBN News on Friday.
Reacting to the ruling, Pimentel said candidates claiming to be PDP-Laban nominees, but were not recognized by his party, would now be considered "unauthorized and illegitimate."
"They should not present themselves to the electorate as such. If they continue to do so, then they are deceiving the electorate," he told ABS-CBN News in a text message.
In a statement, the Pimentel group's lawyer, George Garcia, said candidates of the other faction would now be considered "independent candidates per existing law and rules."
"This will finally settle all uncertainties as regards who the legitimate candidates of the party are," he told ABS-CBN News.
"The truth, in the end, prevails."
The Rogelio Garcia group's lone candidate for senator is singer Freddie Aguilar.
Former election commissioner Gregorio Larrazabal noted that independent candidates for national posts "have to prove they have the organization and logistics to conduct a national campaign."
POWER GRAB
Conflict in the ruling party became public in July this year when Garcia's group held a supposed party assembly and unseated Pimentel and secretary general Pantaleon Alvarez, the former House speaker.
Garcia was installed party president, but Pimentel described the gathering as "rogue."
In its ruling, the Comelec noted that it had not ruled against the set of officers previously submitted by Pimentel's group for the 2016 elections.
"The logic of the Comelec is this — it has been recognizing who the PDP-Laban leaders are for years already. If these people are to be changed, then change them properly… in accordance with your party constitution," said Pimentel.
"A power grab, even if covered by media, cannot officially change the leadership of a political party from the point of view of the Comelec because rules have to be followed. Otherwise we become a banana republic," he added.