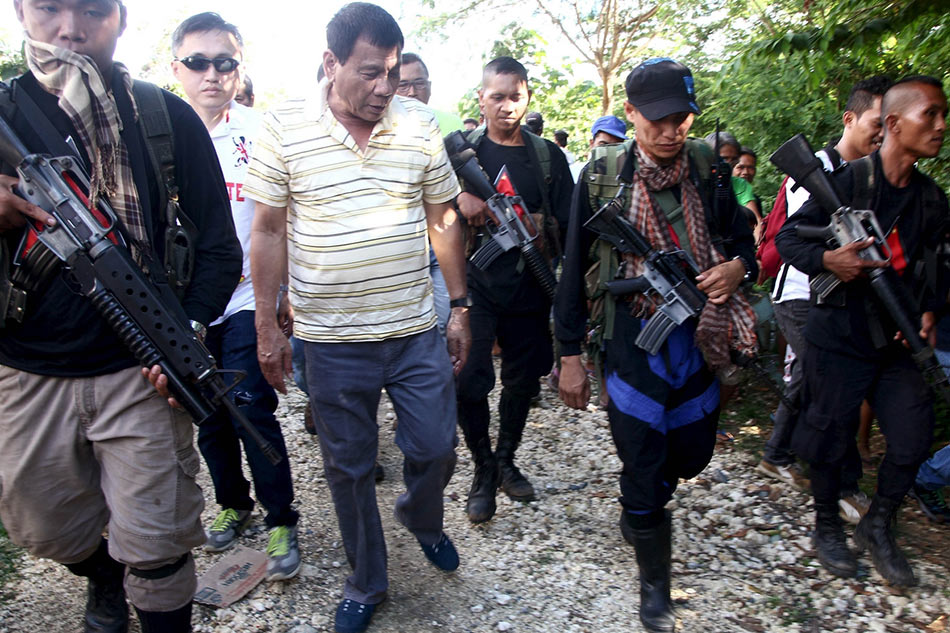 MANILA – President Rodrigo Duterte on Saturday said peace negotiations with communist rebels have been terminated, a month after he suggested that he is open to resuming peace talks with the National Democratic Front of the Philippines (NDFP).
"Itong NPA (New People's Army), totodasin ko talaga. The talks are over. No more talks, and I will go after the legal fronts," Duterte told reporters at the Davao International Airport after his arrival from India.
This, after Duterte last month said Labor Secretary Silvestre Bello III, the chief government negotiator, can "always resuscitate it at some other time."
"We can subsidize the talks and even the billeting, ako na ang mag-gastos. But you have to stop [from extorting]," Duterte earlier said during the 84th anniversary of the Department of Labor and Employment.
The President, however, on Saturday hit the NPA for allegedly collecting so-called revolutionary taxes from businesses.
"Yung mga legal, illegal nila collecting taxes from associations ang mga kasamahan sa mga magbubukid…I'm waiting for the decision of SC (Supreme Court), pag lumabas yan as terrorists, which you really are, imposing taxes here and there. Mabuti pa kayo, mas marami pa ang kita," he said.
Duterte earlier signed a proclamation declaring the Communist Party of the Philippines-NPA as a terrorist organization due to its "violent acts…which sow and create a condition of widespread and extraordinary fear and panic among the populace."
The Department of Justice, however, still has to seek court approval in declaring the CPP-NPA as terrorists in accordance with Republic Act 9372 or the Human Security Act, which lays down acts that are defined as terrorism.
Duterte added he will go after banana plantations and mining firms which allegedly fund the NPA.
"Yung mga banana, mining talamak. My next step really is I will look into your transactions. Money laundering. I suspect everybody. Prangkahan tayo, pag nahuli ko kayo I will give you hell of a time. Lalo na ang mining, I'll just cancel you. I will tell Secretary Cimatu to cancel you. You are funding an organization which is bent on destroying my country, our country," he said.
"The order is to crush, synonym of that is destroy and a collateral of that sentence is you destroy, and if you have to kill, do it. Because the human rights, kung babagsak ang bayang ito, walang maitulong sa atin yan. If you placed a premium for a single individual because his human rights was violated, and you begin to do it one by one, this country would've allowed the derogation of the dignity of the people."
Duterte also took a swipe at his former professor, Communist Party of the Philippines (CPP) founding chairman Jose Maria Sison.
"Kayong mga Lumad, niloloko lang kayo lahat niyan [NPA]. Kung bright ang Sison na 'yan, siya ang presidente ngayon, hindi ako," he said.