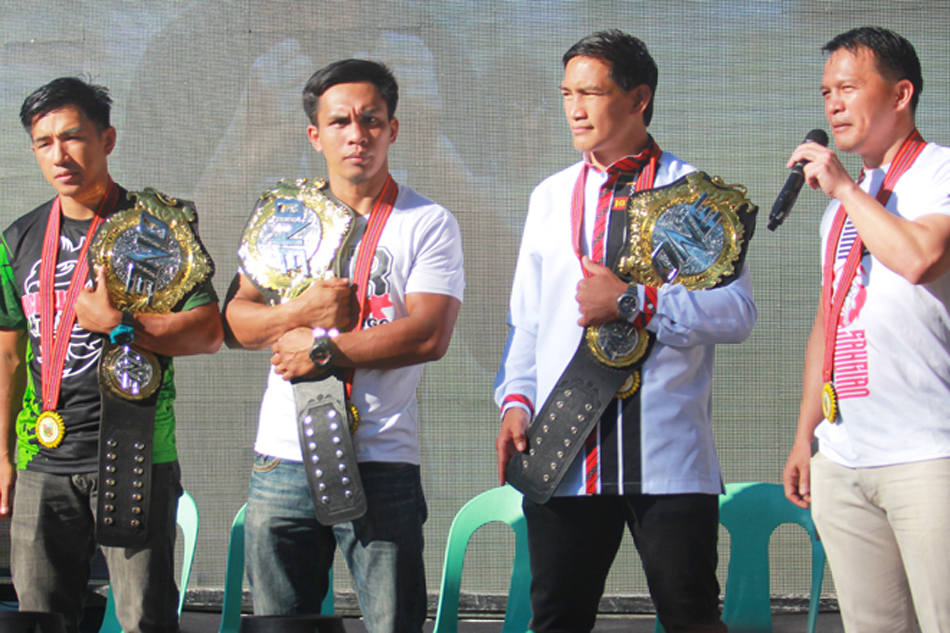 Team Lakay fighters were honored with a Champions Parade in Baguio City. Handout photo
Team Lakay fighters were honored with a Champions Parade in Baguio City. Handout photo
Team Lakay fighters were honored with a Champions Parade in Baguio City. Handout photo
Team Lakay fighters were honored with a Champions Parade in Baguio City. Handout photo
Team Lakay fighters were honored with a Champions Parade in Baguio City. Handout photo
Team Lakay fighters were honored with a Champions Parade in Baguio City. Handout photo
Team Lakay fighters were honored with a Champions Parade in Baguio City. Handout photo
Team Lakay fighters were honored with a Champions Parade in Baguio City. Handout photo
Team Lakay fighters were honored with a Champions Parade in Baguio City. Handout photo
Team Lakay fighters were honored with a Champions Parade in Baguio City. Handout photo
Team Lakay fighters were honored with a Champions Parade in Baguio City. Handout photo
Team Lakay fighters were honored with a Champions Parade in Baguio City. Handout photo
Team Lakay fighters were honored with a Champions Parade in Baguio City. Handout photo
Team Lakay fighters were honored with a Champions Parade in Baguio City. Handout photo
Team Lakay fighters were honored with a Champions Parade in Baguio City. Handout photo
MANILA, Philippines – Members of the famed Team Lakay mixed martial arts stable were honored with a Champions Parade in Baguio City last Sunday.
This, after four members of the gym won world titles in ONE Championship in the past year.
In attendance were ONE lightweight champion Eduard Folayang, ONE bantamweight champion Kevin Belingon, ONE flyweight champion Geje Eustaquio, and ONE strawweight champion Joshua Pacio.
Also attending the parade were Honorio Banario, Edward Kelly, Stephen Loman, and Team Lakay head coach Mark Sangiao.
"We are just normal citizens of Baguio City with big dreams. We worked hard to achieve our goals and now we're here," Folayang said.
"I just want to thank everyone for the support. It means a lot to the team, and it means a lot to me," said Belingon.
The entire team paid tribute to the city of Baguio, with Eustaquio saying: "We always say at Team Lakay that champions are not born, they are made. But we were made because of the people of Baguio City."
"It's a happy time in Baguio City, where we can celebrate all our victories as one. This isn't just our triumphs, but also the triumph of the entire Cordilleras," added Pacio.
Folayang, who regained the ONE lightweight belt in late November, said the triumphs of Team Lakay show that "the Cordilleran can compete with anyone in the world."
"We have what it takes to be the best in our chosen field. Hard work and dedication is all it takes to achieve success," he said.
With the entire city supporting them, the Team Lakay fighters look forward to an even more successful 2019.
"This year, we proved that the Philippines is world-class in martial arts. Next year, we plan to do the same again," Pacio declared.
For more sports coverage, visit the ABS-CBN Sports website.