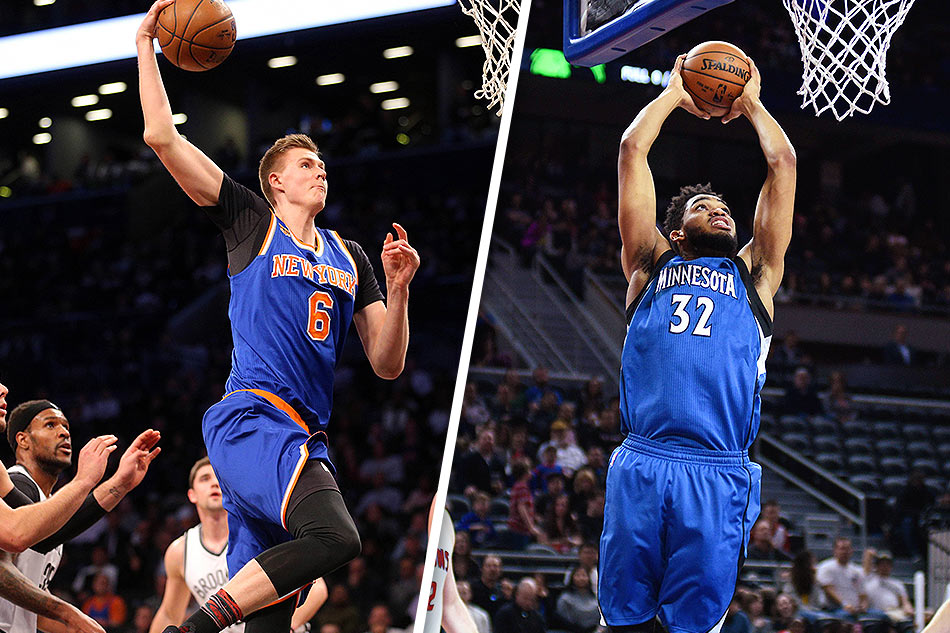 Meet the players who will be featured in the Rising Stars Challenge.
USA team
Devin Booker (Phoenix, shooting guard)
The Suns' fearless long bomber leads all sophomore players with 105 3-pointers and is 2nd only to Karl-Anthony Towns in scoring. Under a veteran coach with substantive playoff experience and a more stable organization, his overall game would blossom even more. At the moment, no question he's the most conscience-less marksman in this group.
Malcolm Brogdon (Milwaukee, shooting guard)
He leads rookies in scoring (517 points) and assists (230). A second-round pick and 36th overall, he has emerged as the best player in his class and could battle for Rookie of the Year honors if it weren't for a dude named Joel Embiid.
Marquese Chriss (Phoenix, power forward)
From the Sacramento Bee: " 'He's got the ability to play multiple positions, not only offensively in my opinion but defensively, too,' (Cavaliers coach Mike) Brown said. 'He has the skill set to play a 4; he could possibly at times play the 3; obviously he can play the 5. As a coach, you can go big with him, you can go small or play a regular lineup with him at power forward.' . . . He is still, of course, largely unproven . . . Still, the Suns clearly have high hopes for Chriss defensively."
Brandon Ingram (LA Lakers, small forward)
The No. 2 overall pick has struggled so far transitioning to the NBA, although the counterargument to that is he's just 19 years old. He leads all rookies in minutes played (1,604) but he's very much a project. He's largely come off the bench to provide some scoring, his best asset coming off college. On occasion, he's been made to run the point, too.
Frank Kaminsky (Charlotte, center)
Heading into All-Star weekend, he arguably just had the best 7-game stretch of his career, which saw him score 20-plus points three times. He's a second-year player and 9th pick overall who has served as a serviceable rotation player for the Hornets.
Jahlil Okafor (Philadelphia, center)
It's been a tough 2 years thus far for Okafor, who not only has had an injury-plagued start to his career but he's also been the subject of on-off trade rumors. The crowded big-man situation on the 76ers hasn't helped his cause. He boasts a decent set of offensive skills, but the criticism is that's all there is to his game.
D'Angelo Russell (LA Lakers, point guard)
A knee injury has set him back this season after a promising rookie year. He leads all 2nd-year players in assists and steals, but he has shot below 40% from the field, which is concerning. If he's healthy, maybe his shooting numbers would look a lot prettier.
Jonathon Simmons (San Antonio, shooting guard)
From MySanAntonio.com: "The Spurs want him to accept his role, play smart basketball and continue to excel at bringing the 'juice' off the bench at both ends of the court."
Karl-Anthony Towns (Minnesota, center)
If the Timberwolves had a better record, he could be in the All-Star game. There's nothing the 2nd-year player and Rookie of the Year winner can't do on both ends of the floor but, because he's being held up to higher standards, his play this season has been subject to a little bit of scrutiny — particularly his defense. Nitpicking aside, he's a legit cornerstone in the vein of past Wolves such as Kevin Garnett and Kevin Love.
Myles Turner (Indiana, center)
He's made a massive leap this year, improving across the board statistically. Among 2nd-year players, he is 2nd behind Towns in rebounds and win shares, and first in blocked shots. At 21 years old, he has the potential to become a franchise player. He's going to need to bulk up and get better scoring from the post to get to that point, but he already has most of the tools needed to excel in the league.
International team
Alex Abrines (Oklahoma City, shooting guard)
The guy called in to replace Joel Embiid (knee injury), he is averaging 5.4 points on a Thunder squad that has had to deal with a mediocre bench. From Fansided: "The seldom-used shooting guard out of Spain has shown the ability to lend Russell (Westbrook) and Co. a hand on the offensive end. This isn't to say that Alex Abrines is the cure-all for the absence of (Enes) Kanter, but having him on the court for an extended look couldn't hurt."
Dante Exum (Utah, point guard)
As a 5th pick overall, the Australian playmaker's numbers leave much to be desired. He missed the entirety of his 2nd season after he tore an ACL, and has struggled to get regular minutes this campaign. He's strung together a few solid games in February, but it'll be interesting to see how he does when starter Rodney Hood (right knee contusion) comes back.
Buddy Hield (New Orleans, shooting guard)
From the New Orleans Advocate: "(The Bahamian rookie) has been a starter 35 times, scoring double digits in 23 games and earned Western Conference Rookie of the Month for December. He's caught fire from the beyond the arc, had his name chanted in the arena and his jersey sold at the team store . . . But, Hield's deficiencies are apparent, even though they're common amongst rookies. He's struggled to finish at the rim, or find a reliable spot on the arc to consistently score from . . . Most disheartening to Hield is his inability to routinely crack the Pelicans' finishing lineup."
Nikola Jokic (Denver, center)
The Nuggets may have struck gold with the 21-year-old Serbian. Not a lot of people know about him outside of rabid basketball fans, but he's the real deal. A 7-footer who has the court awareness of a point guard, he is averaging better numbers than last year in scoring, rebounding and assists. He's dropped 40 points once, and registered 2 triple-doubles this season.
Trey Lyles (Utah, power forward)
From the Salt Lake Tribune: " 'I'm on a playoff-contending team that has a deep roster, so my minutes are going to fluctuate. I have to understand that as a player and continue to work.' . . . Lyles (who hails from Canada), meanwhile, is putting up 7.6 points and 3.8 boards in his 18 minutes per game. It remains to be seen what the 20-year-old's ceiling might be, but the Jazz want to be patient with the young forward."
Willy Hernangomez (New York, center)
A rookie from Spain who loves to bang in the middle, he comes in as a replacement for Denver Nuggets guard Emmanuel Mudiay (back injury). His game complements Porzingis' well, a big man who doesn't shy away from contact, and is a smart passer and efficient scorer. 
Jamal Murray (Denver, shooting guard)
From NBA.com: "He struggled early on and wouldn't score his first field goal until Nov. 5 when he broke the drought . . . For a player who was well-known for his scoring ability at Kentucky, this was an inauspicious start. It hasn't all been smooth sailing for Murray (a native of Canada), but he's shown glimpses of the player he can become."
Kristaps Porzingis (New York, forward/center)
Far and away the best player on the International team, the Latvian 2nd-year man has the makings of the next Dirk Nowitzki. He's 7-foot-4 but can shoot and move like a guard, and doesn't take an off night on defense. He's the lone bright spot on a team that's in total disarray.
Domantas Sabonis (Oklahoma City, power forward)
He's being groomed as a stretch 4, but his production has been inconsistent. The Lithuanian rookie has shot poorly in his last 8 games. He was an inside operator in college and it's clear he's in a bit of a learning curve as he adjusts to playing more in the perimeter.
Dario Saric (Philadelphia, power forward)
He has been on a roll lately, scoring double digits in 6 straight games, his most in the season so far. The scoring efficiency isn't there yet, but the Croatian rookie drafted in 2014 will improve once he gets use to the physicality and pace of the NBA game.
All stats courtesy of Basketball-reference.com
(Catch ABS-CBN's coverage of All-Star weekend with the following live broadcasts: February 18, Saturday, 10 a.m. — BBVA Compass Rising Stars Challenge featuring Team World vs. Team USA, ABS-CBN Channel 2; February 19, Sunday, 9 a.m. — State Farm All-Star Saturday featuring the Skills Challenge, 3-Point Shootout and Slam Dunk Contest, S+A channel 23; February 20, Monday, 9 a.m. — 66th NBA All-Star Game, S+A channel 23)
For more sports coverage, visit the ABS-CBN Sports website.