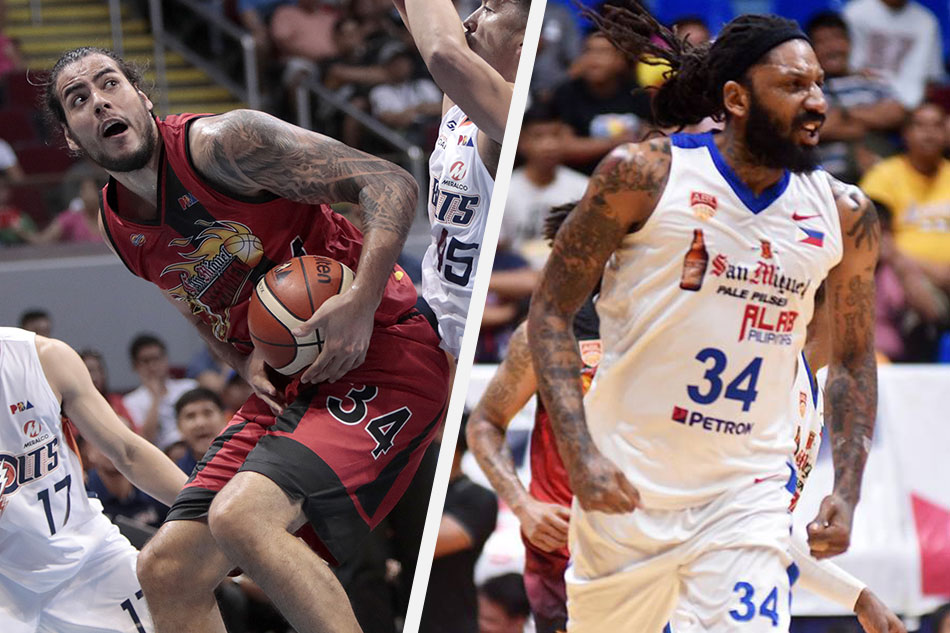 MANILA, Philippines—Just a month ago, Renaldo Balkman and Christian Standhardinger were on opposite sides of the court.
Standhardinger was starring for Hong Kong Eastern, with the club looking to retain its title in the ASEAN Basketball League.
Balkman, meanwhile, had teamed up with Justin Brownlee to turn around the fortunes of Alab Pilipinas in the ABL, pushing the team into the semifinals of the competition.
Standhardinger was solid, as he had been for most of the season for Hong Kong. He normed 17 points and 12.5 rebounds for the defending champions in two games. But he was outplayed by Balkman, who averaged 33.5 points and 12.5 boards, including a 46-point explosion in the first game.
With Balkman and Brownlee conspiring with Ray Parks, Alab swept Hong Kong Eastern in the semifinals of the ABL, and went on to win the title by outlasting Mono Vampire in a hard-fought five-game finals series.
For both players, their showdown in the ABL semifinals is history. Now, they find themselves on the same side, playing for a San Miguel Beer team that has high aspirations in the 2018 PBA Commissioner's Cup.
It is a partnership that both Standhardinger and Balkman welcome.
"I mean, we were warriors before, going at each other, and now, we're teammates," said Balkman, who is making a much-publicized return to the PBA after his ban from the league was lifted last March.
"It's one of those situations where you say, 'Man, look, the past is the past, let's go out there together and try to do something together'," he added. "We're gonna be OK."
Standhardinger agreed: "It's great. He just won the ABL championship, so it's great to have somebody who has the experience and who plays hard on the time. I hope we win games with him."
Winning games is the priority for Standhardinger, who has had a tough start to his San Miguel career. The Beermen have lost their first two games in the Commissioner's Cup, prompting management to switch imports in the first place. Their original choice, Troy Gillenwater, was far from impressive; he was given the pink slip following their loss to Rain or Shine last Sunday – a game wherein the import was ejected late in the first half.
Balkman was officially announced as their new import on Monday, and on Tuesday, he attended San Miguel practice for the first time. The team has less than a week to integrate the American reinforcement into their system, but they have no worries that Balkman will find a way.
"I'm not worried at all. He's long enough playing professional basketball that he knows exactly how to adjust and how to make it work," said Standhardinger.
In just his first practice, Balkman already showed flashes of what he can do with the Beermen, as he linked up with both Standhardinger and four-time MVP June Mar Fajardo for a few plays. Standhardinger said they should only get better as they grow more comfortable with each other.
"It's going to be great, I think," said the rookie. "Playing high-low, you know, finding each other, it's going to be great."
"At the end of the day, as long as we're winning, as long as we start winning in this conference, I think we'll be good," he added.
Balkman, for his part, is also certain that he and Standhardinger will turn into a fearsome force for the Beermen.
"We both got similar games. Him on one side and me on the other side? It's going to be hard for a lot of teams," said Balkman. "We got energy, and sometimes, you can't teach a player that. That's what they gotta watch out for from us."
For more sports coverage, visit the ABS-CBN Sports website.