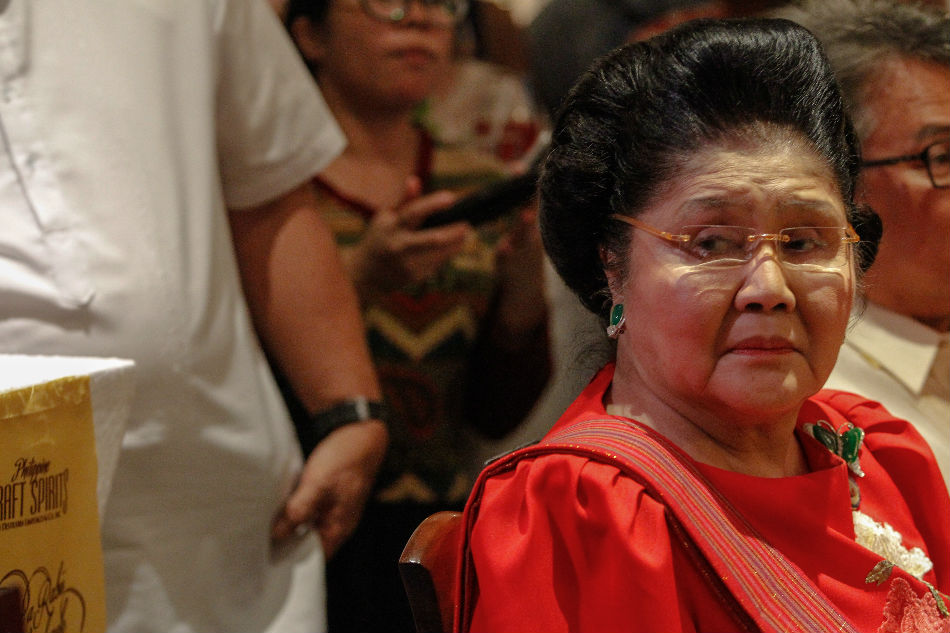 MANILA – There may be no need to put handcuffs on former First Lady Imelda Marcos upon her arrest as the police usually give courtesy to old women, especially those without "history of violence," the Philippine National Police chief said.
PNP chief Director General Oscar Albayalde said they have yet to receive a copy of any resolution or arrest warrant from the Sandiganbayan but said the police are ready to follow the court's order.
"Unang-una po siya naman ay babae. Most of the time, kahit sino po, lalo na kung medyo may edad na, mga babae, hindi na po natin naman kinakailangang pinoposasan, lalo na kung wala naman pong history of violence," he told DZMM last Monday.
(First of all, she's a woman. Most of the time, any woman, especially old women, we don't put them in handcuffs, especially if she does not have any history of violence.)
Albayalde said Marcos' case is different from the previous arrest of Senator Antonio Trillanes IV who has a history of rebellion.
But former Commission on Human Rights chief Loretta Rosales, a Martial Law victim herself, begged to differ, saying the Marcoses benefited from the massacres, tortures, and enforced disappearances during the family's reign.
"Walang history of violence? She benefited from the massacres, tortures, enforced disappearances that Marcos inflicted on the people protesting the regime's repression because they tried to silence us through armed violence and coercion," she told ABS-CBN News Wednesday.
The Sandiganbayan 5th Division found the former First Lady guilty in 7 counts of graft for using her Cabinet position to maintain her Swiss bank accounts during their rule of his husband, the late dictator Ferdinand Marcos Sr.
The court on Tuesday deferred the arrest warrant against Marcos after the latter filed a motion for leave of court to avail post-conviction remedies. The Sandiganbayan said Marcos may still post bail while her conviction is on appeal.
Rosales said the PNP chief should just enforce the law and "not give arbitrary opinions that go counter to the rule of law."
"Any citizen, young or old, rich or poor, of whatever sex or gender and political and religious belief must be treated humanely, respecting his or her human dignity," she said.
Meanwhile, Albayalde said the Criminal Investigation and Detection Group will be the lead agency in the looming arrest of Marcos. He also assured that there will be no special treatment when the court orders the arrest of Marcos.
"We do not intend to give anybody special treatment," he said. "We will serve the warrant any time of the day kung magkaroon man po ng warrant diyan."