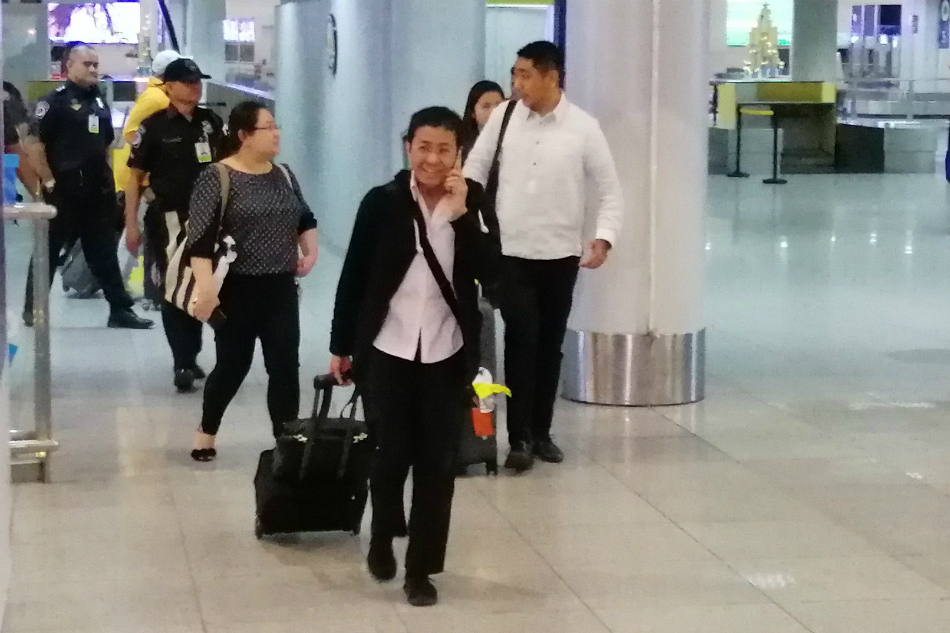 MANILA – (UPDATED) Amid fears of her being arrested due to multiple tax evasion cases filed by the government, journalist Maria Ressa arrived in Manila saying she was ready to face these charges.
"Bring it and I'll fight it," Ressa told reporters as she stepped out of the arrival area of the Ninoy Aquino International Airport Terminal 3 Sunday night.
LOOK: Rappler CEO & Exec. Editor Maria Ressa arrives in Manila, says her lawyers have confirmed a warrant of arrest has been issued in relation to tax raps against her and Rappler Holdings Corp. She says she is ready to bail. pic.twitter.com/Gurp9JpQPw

— Anjo Bagaoisan (@anjo_bagaoisan) December 2, 2018
Ressa was welcomed by present and former staff of her news organization Rappler.
She said her lawyers have confirmed that an arrest warrant was issued against her and that she was ready to post bail.
"I am going to publicly hold my government accountable for calling me a criminal. I am not a criminal. I have been a journalist for my entire life. I will continue to hold my government accountable," she said.
Ressa's lawyers from the ACCRA Law firm said the warrant was issued by the Pasig Regional Trial Court Branch 265 under Judge Danilo Buemio.
Ressa and Rappler's holdings company face 5 tax evasion cases filed by the Department of Justice on Friday.
Four of the cases are with the Court of Tax Appeals, and the fifth is with the Pasig court.
Ressa maintained that the cases had no basis.
"Even as the government filed these tax cases, they continue to send tax agents to our office looking for documentation to beef it up," she said.
Ressa said that her company was paying the right taxes unless the government reclassified it into a stock brokerage agency.
She added that she "overpays" her personal taxes.
Ressa on tax charges: Personally, I overpay my taxes. Obviously, the company I run would be paying the right taxes, except of course, if the government reclassifies us as a stock brokerage agency instead of a news group. pic.twitter.com/wKeOwd9sSw

— Anjo Bagaoisan (@anjo_bagaoisan) December 2, 2018
ATTACK ON REPORTING?
Before Ressa arrived in Manila, her lawyer Francis Lim of ACCRA Law said it hoped the possibility of her being arrested upon arrival would not push through.
"It is not common for warrants of arrest to be served on Sunday nights," Lim said in a statement.
"Doing so will just give more weight to the well-founded perception that our government has been unduly rushing cases against the officers of Rappler because of its fearless reporting on the true situation in the Philippines," Lim said.
The National Union of Journalists of the Philippines (NUJP) also released a statement warning that if Ressa is arrested, it would send a signal that democracy in the Philippines was" "fast receding" under the Duterte administration.
"Government can surely pursue its case without needing to arrest Maria and haul her off to jail – unless, of course, the intention is really to humiliate and intimidate her," the NUJP said.
In November, Ressa, a former CNN bureau chief and ABS-CBN news executive, went abroad to receive the 2018 Gwen Ifill Press Freedom Award by the Committee to Protect Journalists and the 2018 Knight International Journalism Award.
Asked if the tax charges were a response to critical coverage, she answered: "I think it is a way of sending a signal that we have to be careful. That's part of what they want to do."
"But the more they do things like this, these ridiculous things, the more we're going to continue to do investigative reporting. We're just gonna say it doesn't work," she said.
She admitted that the prospect of arrest made her feel vulnerable.
"Obviously it makes you feel vulnerable, and I think that's the point right? The point is for the government to actually make you fear its power and then do what it wants to do, including bending the law to the point that it's broken."
Ressa added that the cases against Rappler have prompted her to speak out more.
"The people who know me know I am not a radical. But government actions like this? It forces me to speak. I think we all have to speak."
However, she said she believes their camp would win in the long-term.
Calling on members of the courts handling Rappler's cases, Ressa said: "We're doing nothing but good journalism. We are trying to serve our public. Let us continue to do so."