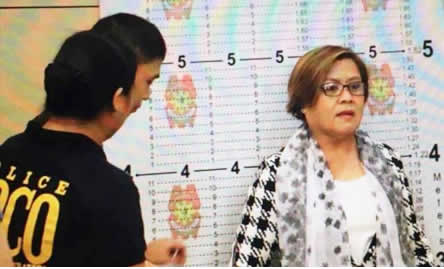 Senator Leila Delima prepares for a mugshot to be taken as part of her arrest procedure. Screengrab/GMA News

id she really break the law? Or are the trials and tribulations she is undergoing, a prelude of how President Rodrigo Duterte intends to deal with those who oppose him: first, malign them in the public's eye, then throw them in jail on trumped-up charges.
Senator Delima has so far had a sterling reputation prior to the Duterte presidency. As Wikipedia notes, Delima is: "a Filipino lawyer, human rights activist and politician. She was appointed by President Gloria Macapagal Arroyo as Chairperson of the Philippine Commission on Human Rights in May 2008 and she served in the commission until June 30, 2010, when she was appointed by President Benigno S. Aquino III as the Philippines' Secretary of the Department of Justice."
To be appointed by two presidents each belonging to opposing political camps meant that Delima was vetted by two groups from opposite sides of the spectrum, who found nothing in her character or her past that prevented her getting those appointments. She was later voted into office as Senator of the Philippines beating dozens of better-known, well-established candidates.
Now comes the newly elected Duterte administration which begins to paint her as a depraved, almost despicable, individual who is secretly living a second life as a drug kingpin. And for good measure, they also throw in alleged videos of her sexual escapades that are suddenly found on the internet.
For starters, the charges against Senator Delima don't pass the smell test. If she was the person the Duterte administration says she is, Delima would have been exposed a long time ago as she held two high profile positions: first, as head of the Commission on Human Rights, and later as Secretary of Justice. One can assume that she made a lot of enemies in both those posts. If she was involved in nefarious activities, it would have been used against her by those opposed to her.
It seems one enemy she did make was Rodrigo Duterte, because of his role in the infamous Davao Death Squad. Now that he is president, he seems to be making it his personal mission to destroy Delima. Whether on not he succeeds will depend on the Filipino people. Will they refuse to be lead by lies and deceit and demand that the courts treat Delima fairly? If Filipinos shirk this responsibility, we can expect all those opposed to Duterte to suffer a similar fate. Because if such tactics work against Delima, rest assured it will be used again and again on others opposed to this president. Published 4/18/2017