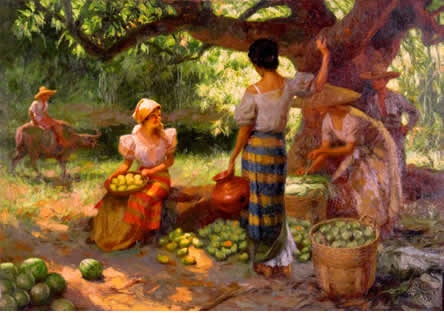 Fernando Amorsolo's "Mango Pickers" painting depicts a lush, idyllic Philippines. Photo: kahimyang.com

s people celebrated earth Day all across the planet, Filipinos need to take pause and start championing our planet's welfare in earnest. The Philippines once had an abundance of natural resources: lush forests, crystal-clear rivers and streams, and all manner of flora and fauna.
Today, much of that is gone. The country's soil has been over-tilled or mismanaged by unsound farming practices; its rivers and streams polluted; its mangroves and coral reefs all but destroyed; its forests denuded; and this is just the "tip of the iceberg."
The country's population has exploded with almost total abandon, thanks to the Catholic Church's stranglehold on family planning and the almost medieval version of Catholicism it aggressively espouses throughout the archipelago.
Drive around Metro Manila and you see nothing but soot-darkened houses and buildings under a yellow-brown sky. Visit parts of Manila and the "open sewer" stench of the esteros and canals will be enough to drive you away.
It would be great if President Rodrigo Duterte focuses more on this issue instead of his so-called "war on drugs." But that might be asking too much from a person who seems more visceral than intellectual. So if this administration won't listen or act, than we Filipinos have to step up to the challenge and collectively work to reverse the country's environmental degradation.  It is really that important. Because, even though we already feel the effects our decades of mismanagement has caused, it will be future generations of Filipinos who will receive the full brunt of nature's wrath if we do nothing. Published 4/22/2017