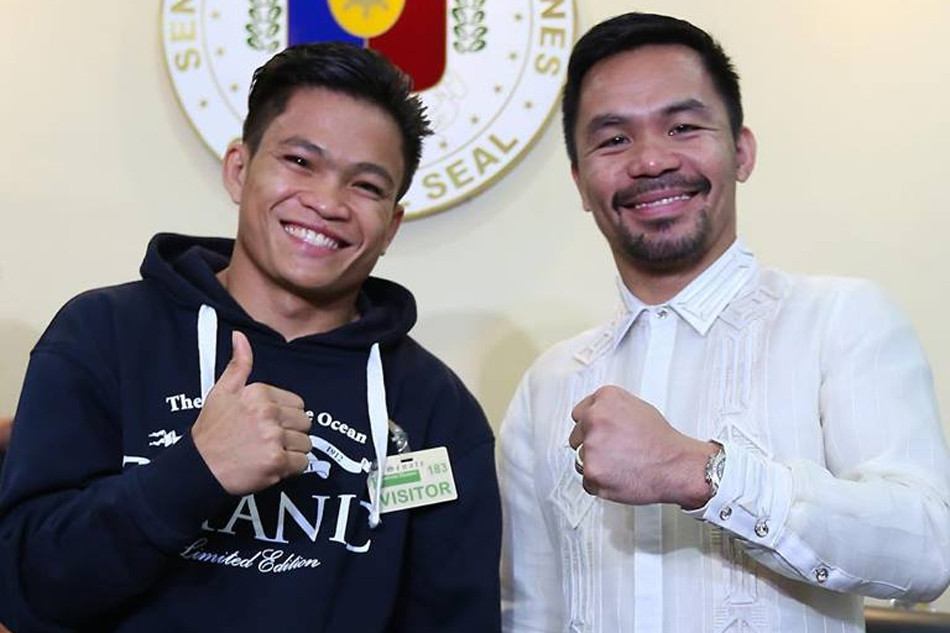 Jerwin Ancajas' annihilation of Israel Gonzalez of Mexico over the weekend got everyone hyped for the Panabo city boxer's future.
Ancajas did what was expected of him, which was to beat the living daylights out of an opponent in his first fight in the US, likely opening a floodgate of big-money offers to fight there.
It was an emphatic victory, much like the one pulled out by his childhood idol and promotional boss, Manny Pacquiao, who announced his arrival in the international boxing scene with a crushing victory over South Africa's Lehlo Ledwaba nearly 17 years ago.
That's where the similarities lie, both Filipino boxers' US debuts were smashing, but how different were they?
One, Pacquiao came in as a challenger, not a champion, a late replacement on two weeks' notice.
Two, he arrived in Las Vegas an unknown entity to States-side fans while Ancajas signed up for his Texas bout on the strength of three convincing, successful title defenses.
It was that difference in narrative — Pacquiao the underdog, Ancajas the favorite — that makes Pacquiao's debut more impressive.
Ted Lerner, the Philadelphia-born Philippine correspondent for Ring magazine describes the win over Ledwaba as "absolutely sensational."
"Ledwaba was the next great thing in that (junior featherweight) division. Everyone was sure," Lerner said.
"We all knew that Pacquiao could win, he could beat anybody but there was certainly a bit of a question mark even amongst us who knew because we hadn't seen him at that level yet. But he had the potential.
"What Pacquiao did was on another level."
Dennis Principe said the two boxers' first forays in the US are apples and oranges.
"Ang clincher talaga doon ay 'yung nakalaban ni Manny was a legitimate champion. He was being programmed as a future superstar to come out of South Africa and du'n pa lang makikita mo malaki ang difference kasi 'yung Gonzalez nondescript kung ikukumpara mo sa kalaban ni Manny," said Principe, who worked the broadcast booth for the Ancajas-Gonzalez fight and is a long-time TV fight commentator.
"Doon walang comparison, hindi mo masasabi na 'yung debut niya was as successful as Manny's."
Lerner agrees that the quality of opponent made Pacquiao's debut more special.
"What Ancajas did was certainly impressive, but I don't think Gonzalez put up much of a fight for him," he said.
In Pacquiao's time, Lerner added, Filipinos getting a shot in the US wasn't common. For Pacquiao to land the Ledwaba fight and win was a testament to his will to succeed and exceptional talent.
"Many Filipino fighters weren't able to break away from their roots and get to the States and get to where the big money was, and he was able to do that," Lerner said.
Ed Tolentino, who works as a TV commentator for ABS-CBN Sports' "Pinoy Pride" boxing series, said the odds Pacquiao faced and scaled against Ledwaba were more formidable.
"Ledwaba was an accomplished champion at the time and even seemed destined for greatness," Tolentino said.
"The pressure was bigger for Manny because he was the challenger and taking on an accomplished champ."
As Pacquiao's ring career winds down, the search for the next king of Philippine boxing is underway and there's a belief that Ancajas could be that guy. In stature, yes, but not as a box-office draw yet and definitely not in fighting style.
"Ancajas doesn't have the animalistic style of, sort of the style that Pacquiao had against Ledwaba but he has that eye of the tiger," Lerner said.
"He is more scientific, but he has that something that you can just tell that he's really focused, he's really confident, he looks really strong." — With reports from Dominic Menor and Dennis Gasgonia, ABS-CBN News
For more sports coverage, visit the ABS-CBN Sports website.